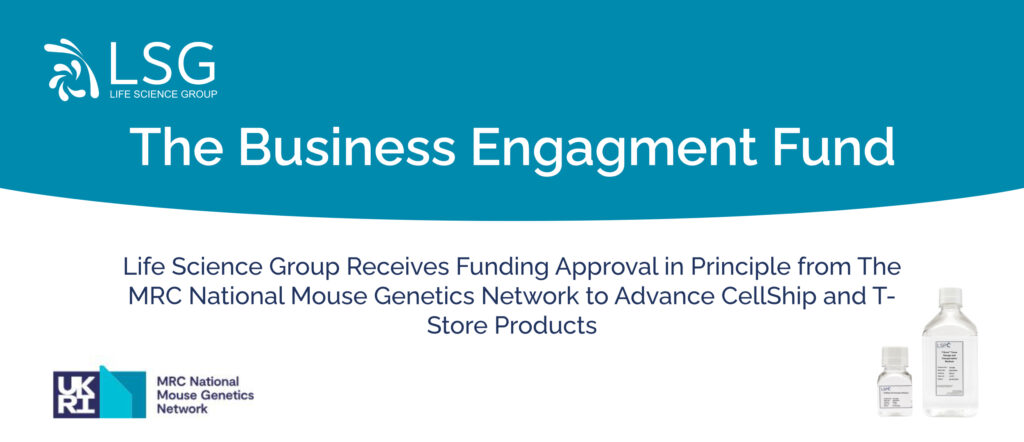 Accelerating Innovation in Cell Culture Solutions through Collaborative Funding
Life Science Group Ltd (LSG) is excited to announce that its joint application with the Mary Lyon Centre (MLC) at MRC Harwell to the MRC National Mouse Genetics Network (NMGN) Business Engagement Fund has been approved in principle, pending the signature of the relevant agreements. This achievement marks a significant step forward in advancing LSG's products, specifically CellShip and T-Store. The funding received through this collaboration with Dr Martin Fray from the MLC will drive product development and facilitate testing on various cell types and tissues.
The NMGN Business Engagement Fund is designed to foster connections between businesses and the NMGN, encouraging the exchange of knowledge and the translation of research into tangible solutions. LSG's successful application showcases its commitment to innovation and collaboration within the life sciences industry.
"We are thrilled to have our application to the NMGN Business Engagement Fund approved," said Jenny Murray, Managing Director at LSG. "This partnership presents a fantastic opportunity to propel the development of our products, CellShip and T-Store. We're looking forward to harnessing this support to conduct essential testing on different cell types and tissues, potentially revolutionising cell culture solutions."
''I am really looking forward to working with LSG on this project, " said Martin Fray, Head of Biological Resources at the MLC. "Preserving the morphology and biological activity of the samples that we exchange with the laboratories around the world is of paramount importance to us. I believe these media have the potential to transform the work we do. So being given the opportunity to evaluate, what promises to be the 'best in class' transport media, is a very exciting prospect indeed.''
This support will enable LSG to accelerate its product development process and gather valuable data through extensive testing, ensuring the robustness and effectiveness of CellShip and T-Store.
The NMGN Business Engagement Fund supports 3 to 12 months of projects, with funding ranging from £15,000 to £100,000. The projects are expected to nurture collaboration between NMGN and businesses, driving feasibility studies, pilot projects, and preliminary experiments. These initiatives will lay the foundation for strong collaborative grant proposals that drive innovation within the industry.
As Life Science Group embarks on this collaborative journey with NMGN, the company's commitment to innovation, excellence, and transformative solutions remains at the forefront. The funding received through this initiative is poised to accelerate the advancement of CellShip and T-Store, propelling LSG's contribution to the life sciences industry.
For more information on Life Science Group's products and initiatives, please contact us at sales@lifesciencegroup.co.uk or the MRC NMGN at genetics_network@har.mrc.ac.uk for more information about the projects they support.