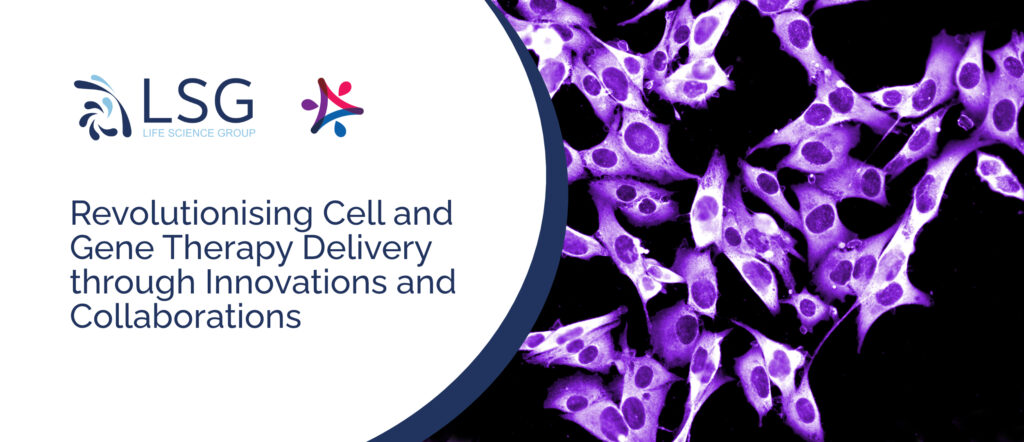 Revolutionising Cell and Gene Therapy Delivery through Innovations and Collaborations
Life Science Group Ltd (LSG) proudly announces its selection as a finalist in the Impact and Transformation Award category of the esteemed 2023 Knowledge Transfer Partnership (KTP) Best of the Best Awards. This recognition shines a spotlight on LSG's exceptional collaboration with Coventry University in developing a groundbreaking product that has the potential to reshape the delivery of cell and gene therapy treatments.
The collaborative effort between Coventry University and LSG has resulted in the development of CellShip, an innovative cell shipment and storage medium aimed to revolutionise the transportation and storage of cells without the need to use dry ice. The project, funded by a three-year, £250,000 Innovate UK Knowledge Transfer Partnership, exemplifies the power of collaboration to drive scientific breakthroughs with real-world impact.
CellShip presents a sterile, Xeno-free alternative to cryopreservation for transporting and storing cells. Unlike traditional cryopreservation, CellShip permits cells to be transported and stored at ambient temperatures, significantly reducing the potential loss of cells and eliminating the need for toxic cryoprotectants. This breakthrough innovation has the potential to make cell and gene therapies more accessible and affordable, addressing complex diseases and rare disorders for which conventional treatments fall short.
Jenny Murray, Managing Director of Life Science Group, emphasised the significance of CellShip in advancing personalised medicine. "CellShip offers the ability to transport cells at ambient temperatures, in stasis, which allows cells to be accurately controlled, reduces potential cell loss, and eliminates the need for toxic additives. This novel and disruptive product has the potential to revolutionise the delivery of personalised medicine globally."
The successful collaboration between Coventry University and LSG facilitated through the KTP program, received the highest grade of 'Outstanding' from The Knowledge Transfer Partnership. Dr Emma Buick led the three-year KTP project, overseen by Professor Sebastien Farnaud and Professor Derek Renshaw from Coventry University's Research Centre for Sport, Exercise and Life Sciences and Research Centre for Applied Biological & Exercise Sciences, respectively.
"We are honoured to be recognised as a finalist for the Transformation and Impact Award at the 2023 KTP Best of the Best Awards," Jenny Murray, Managing Director at LSG, expressed. "This collaboration epitomises the power of partnerships in driving innovation and positive change. The potential of CellShip to enhance global healthcare underscores the significance of our work."
As LSG awaits the awards announcement, the company remains committed to leveraging collaborations and innovation to drive transformative solutions in the field of life sciences. The partnership with Coventry University exemplifies LSG's dedication to advancing breakthrough technologies with real-world implications.
For more information about Life Science Group's innovative endeavours and collaborations, please contact us at Sales@lifesciencegroup.co.uk